WHAT PEOPLE ARE SAYING ABOUT WEIR LAW FIRM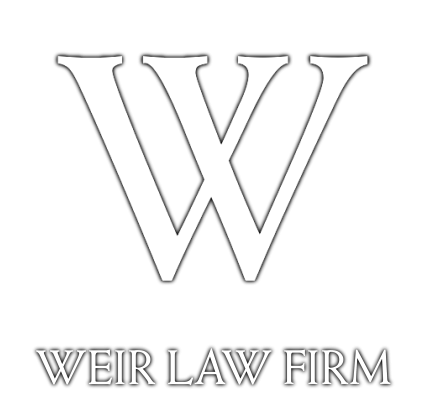 I've used a lot of attorneys in the past but Jay Weir is my top choice of them all. Jay listens – he is courteous and responsive. He's a great man with a great heart, calm demeanor, and is well spoken; very adept at "recognizing and addressing what matters in the court room." A very patient and thorough man who always applies himself 100 percent. I haven't found another like him…I have used Jay multiple times and he never disappoints! You do your part on your end and he will definitely uphold his!
Julie J.
FAMILY LAW  | Making the Right Decisions Makes All the Difference
When family matters become legal matters, it is very important to make the right long-term decisions. Making the right decisions will make all the difference in the outcome of your case. What are those decisions? The Weir Law Firm can help you figure that out.
The Weir Law Firm, P.C. is committed to providing its clients the absolute best in professional legal guidance and personal one-on-one service.

BANKRUPTCY LAW  |  A Fresh Start for Your Finances… A Fresh Start for You
Most people misunderstand what "Bankruptcy" is – they view it as failure. But that isn't the case at all. Bankruptcy is designed to help people facing a financial crisis gain a fresh start. Can it be the right answer for you? The Weir Law Firm will show you all your options.
ABOUT US   |   The Guidance You Need, The Service You Deserve
When you choose to work with the Weir Law Firm, your case gets the absolute best in professional legal guidance along with the personal one-on-one service you deserve. Learn more about Weir Law Firm and how we can put our experience to work for you.
WEIR LAW FIRM in Tupelo, Mississippi
Are you looking for an experienced lawyer in Mississippi? Weir Law Firm in Tupelo, MS provides its clients with the very best in professional legal guidance coupled with personal one-on-one service. Weir Law Firm specializes in Divorce Law, Bankruptcy Law, Criminal Law, Personal Injury Law, Wills and Probate, and Wrongful Death Law. Weir Law Firm serves clients all over north Mississippi including Lee County, Alcorn County, Itawamba County, Monroe County, Pontotoc County, Union County, Prentiss County, Tishimingo County, Chickasaw County, Clay County, Lowndes County, Lafayette County, Tippah County, Benton County, Marshall County, Calhoun County, Oktibbeha County, and Noxubee County.